The month before Christmas
It's been a month of finding greenery and adding a little warmth to the drabness that is our as of yet unhelped kitchen and dining room.  You'd think after a year I could have at least managed to find curtains.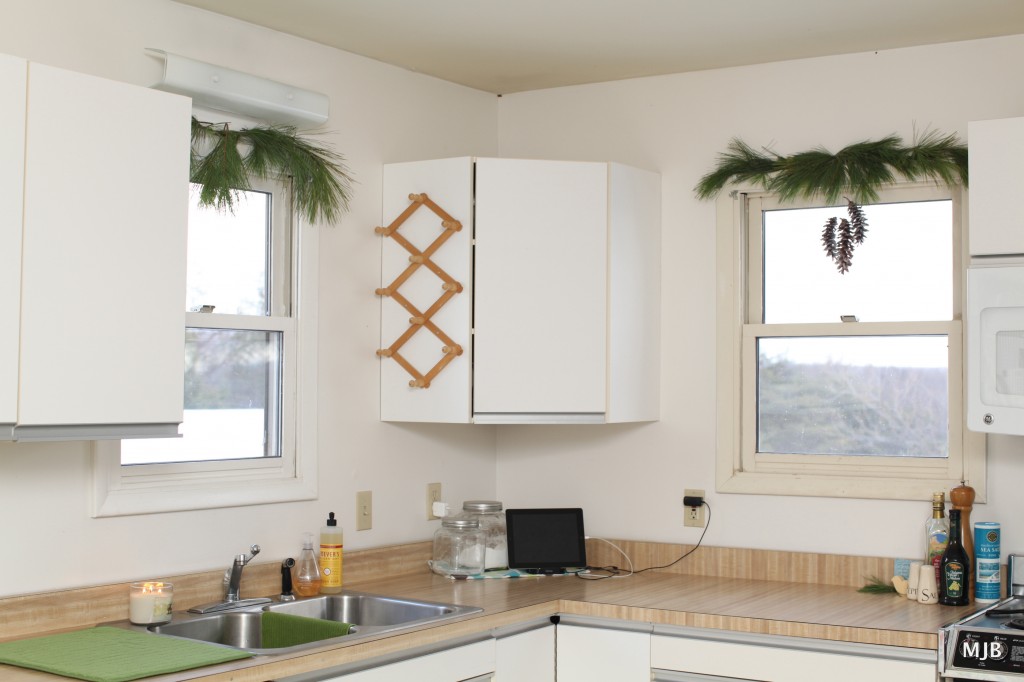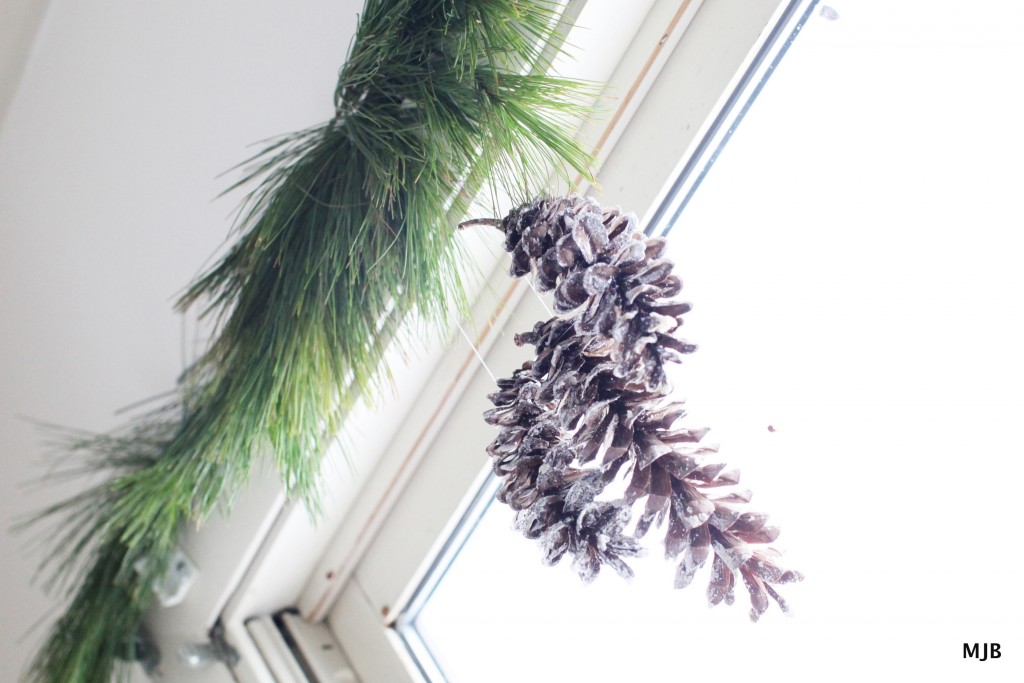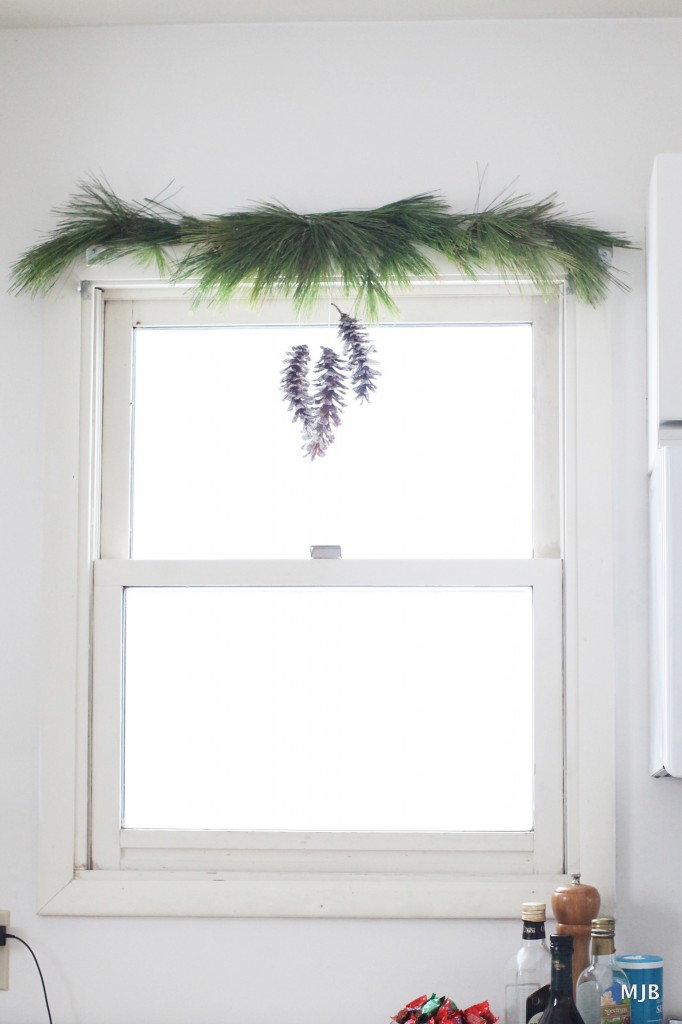 …of David working in the basement every possible spare minute and in spite of his amazing, frequent clean ups, finding a new layer of dust in the house every single day.
…of cookie baking …. every single one of the traditional favorites I grew up with except for turtles.  It still takes a mom to make turtles and mine lives too far away.  But date nut balls, rice krispy candy, peanut butter balls that make Reese's cookies cower in the corner with their hands over their eyes, peanut blossoms, Russian tea cakes, thumbprint cookies, chocolate covered pretzels …. yep, we've got those covered.  Or maybe by now they've got us covered.  Or they would have if 80% of them wouldn't have been gifted to our lovely neighbors.  Did you know that the secret to making the best rice krispy candy ever is to put almost three times as much butter as what the recipe calls for?  Seriously, they're light and fluffy instead of dry and chewy.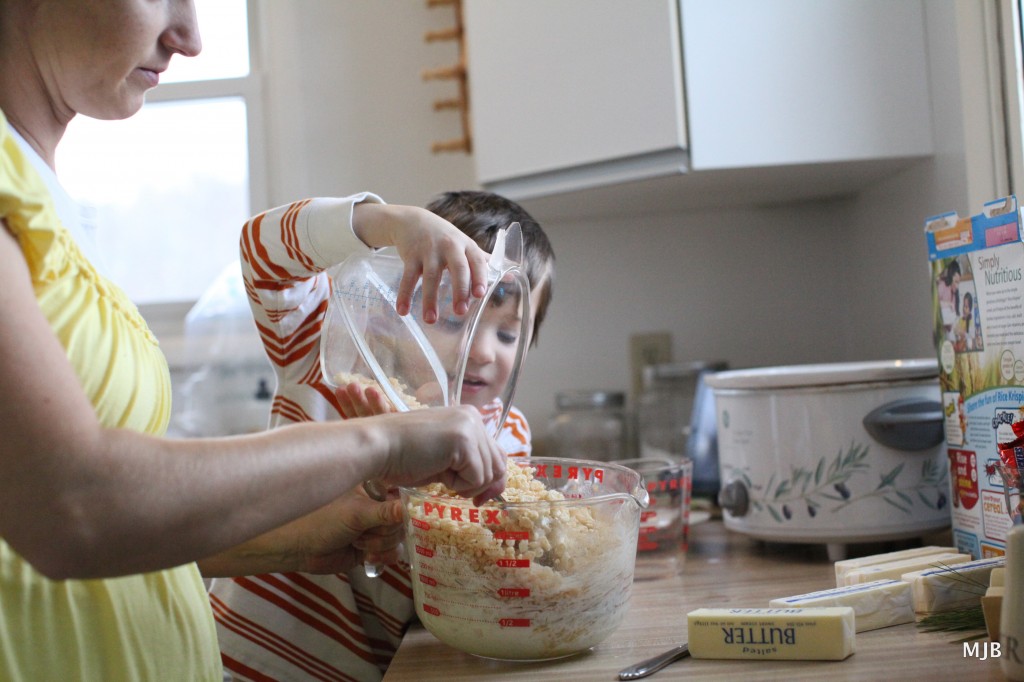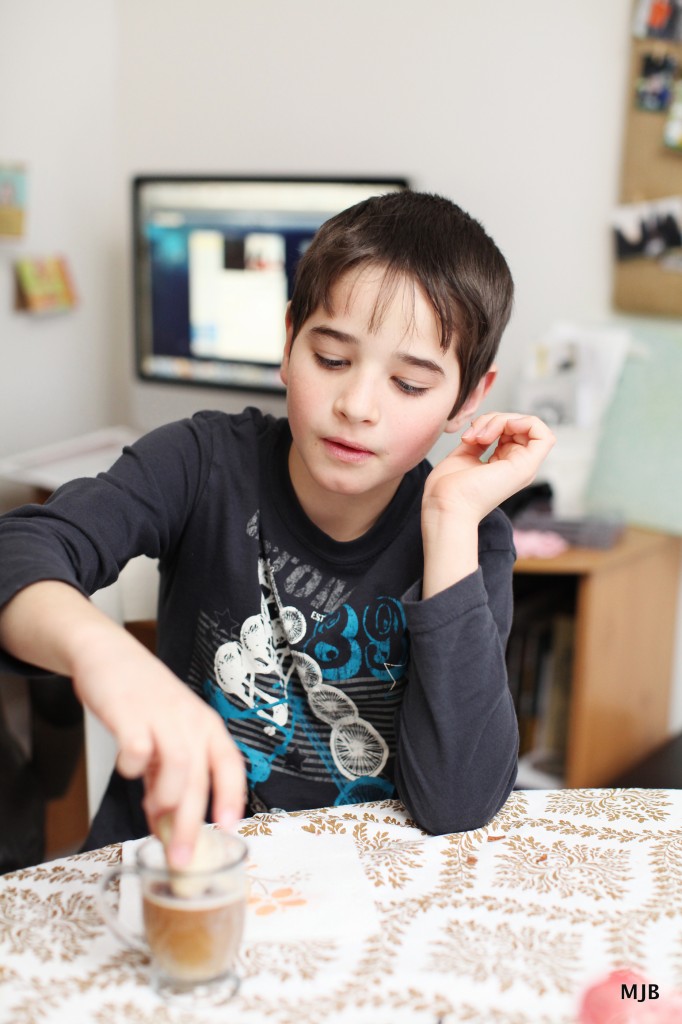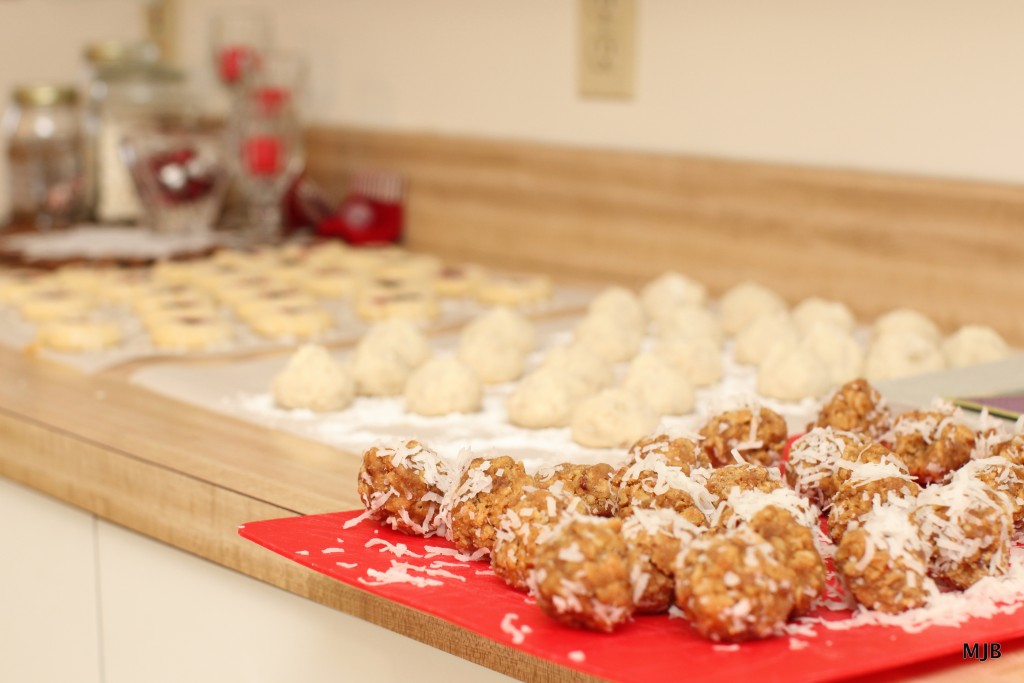 …of crafting.  At camp, the boys make crafts for their families.  Staff make crafts for the staff Christmas exchange.  And this year, Adam and Liam jumped on the bandwagon of crafting, too.  Adam came up with a wood burning idea for David and pulled it off pretty diligently one afternoon.  Liam's first soap carving didn't go so well because the soap kept falling apart.  I'm just hoping David's guessing skills will shoot up like a ski lift Christmas morning.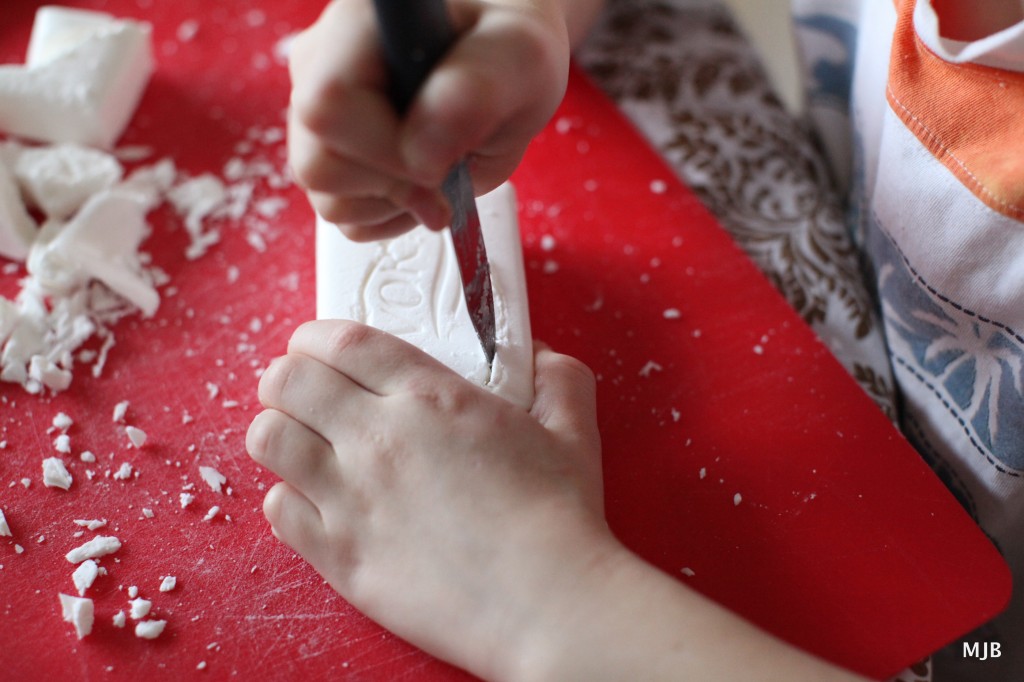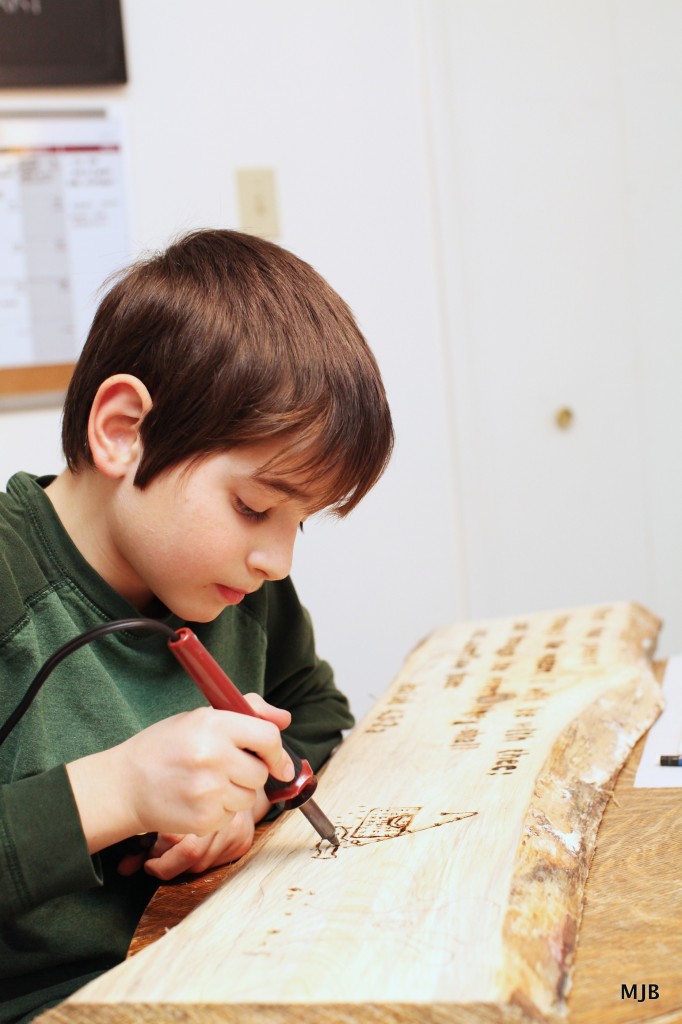 I've been having fun crafting, too, although mine has *mostly* stuck with the paper version and simple things like Christmas table decor.  But oh, it's been fun to do something mindless and creative … especially after going cross-eyed late at night over technical issues while trying to set up a new website for camp.  I love being stretched and learning new things.  I just have to keep chanting that to myself when I google a question and I still don't understand the explanation in the tutorial.  😉  But I have a few fabulous resources I plan to make the most of soon and hopefully in January we'll be able to replace the existing site with the new one.  But decor?  Just fun!  The only downside is that it is so much fun the boys keep wanting to take the job!  I'm exploiting the gold crush that's running viral and loving it!  I still haven't pried my fingers loose from the beloved greys and silvers when it comes to clothes, but ribbon and table decor?  It's so sparkly and pretty!  I can't wait to put it all together Christmas Day!
No tools?  no problem.  Did you know you can make a lacy paper edge with a scallop scissors and a pin?  I'm pretty sure an edger of some sort is probably out there just hanging on the store shelves, but I don't have one and this works.  The holes may or may not end up in the middle of the scallop when you have five years olds who want to help poke though.  It's called embracing imperfection and life and assuming the lace is handmade and unique.
I thought I was doing relatively well with that thought until Liam wanted to finish out writing the names for me.  Does anyone else ever get torn in that no man's land battle zone between "I love that the boys want to help and be involved and oops, this is not going to look like I was planning?"  I was nearly finished and I really, really, really just wanted them to all look the same.  But I felt so guilty about saying no.  When is it ok to have your own project and when is that just selfish??  I bet that if you're a mom in my generation you've heard it over and over and over.  "Let your children help you now if you want to be involved in their lives later.  Get your children involved; don't just push them aside."  I agree with them.  I really do.  But sometimes when the boys want to be with me all.the.time doing everything I do, the devil's advocate in me wants to ask, ten years from now are we going to be telling mom's that it's great to let your children help, but they should also learn that sometimes they have to be okay with just watching or doing their own thing?  Because I'm pretty sure we can fall into the opposite ditch so far that they end up feeling entitled and like the world revolves around their being allowed into every fun thing that happens.  Do you let your children help with everything?
Philosophy aside, I suggested Liam make paper name tags to put around our napkins for our own little Christmas breakfast with just our family.  He and I were both thrilled.  I stitched a big red zig zag stitch along both edges for a bit of chevron vibe and he sat down with the new silver paint pen to write names.  And then I nearly swooned.  I know it's just mom-heart palpitations but that five-year-old kindergarten font is so precious I want to save them forever!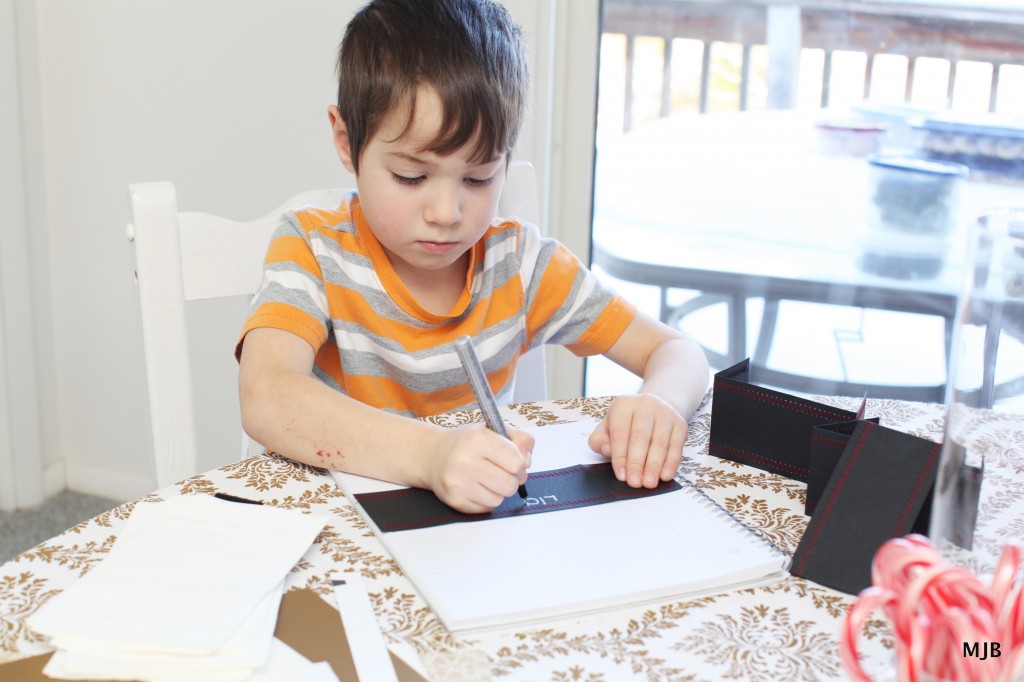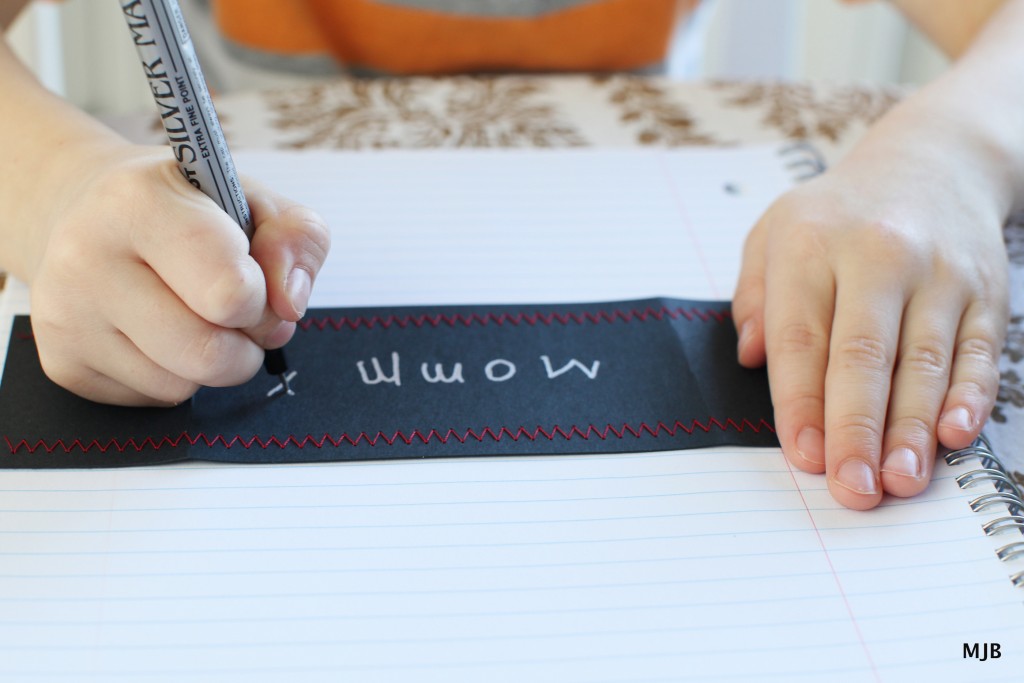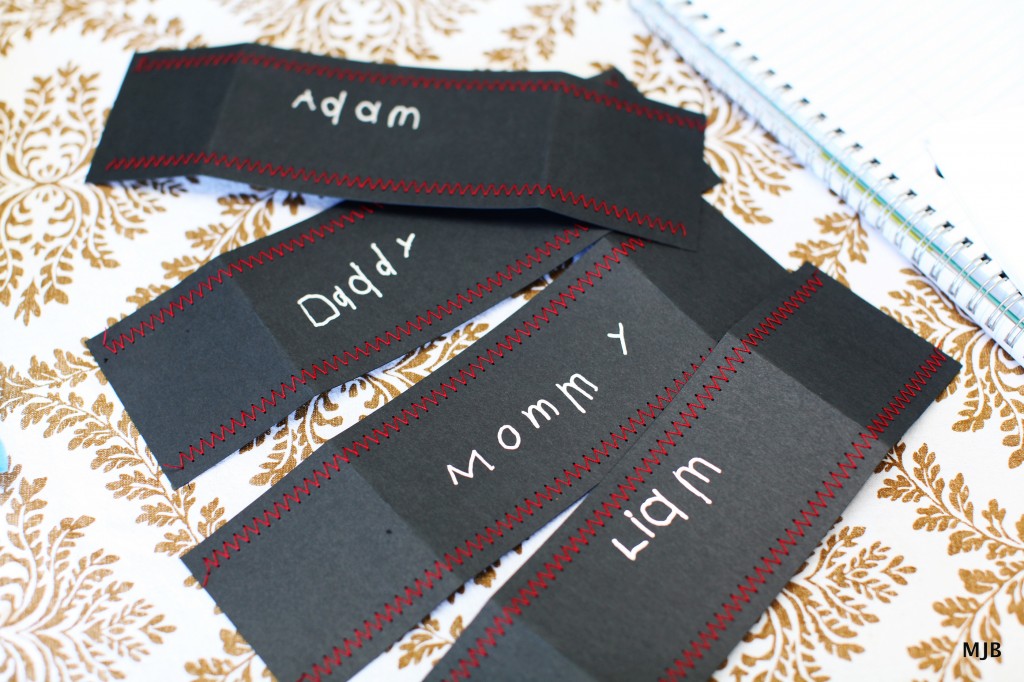 … a month of this lovely Pear Pomegranate Salad becoming almost a staple.  My sister-in-law, Jo, is the finder of the most amazing salads.  She introduced us to this one at our Christmas get together two years ago.  Now I can hardly look at a Pomegranate without instantly thinking of this salad.  Spinach, lettuce, glazed pecans, pears, feta cheese, and pomegranates married with a red wine vinaigrette dressing.  Seriously.  That pile is none too big when you're looking at this salad.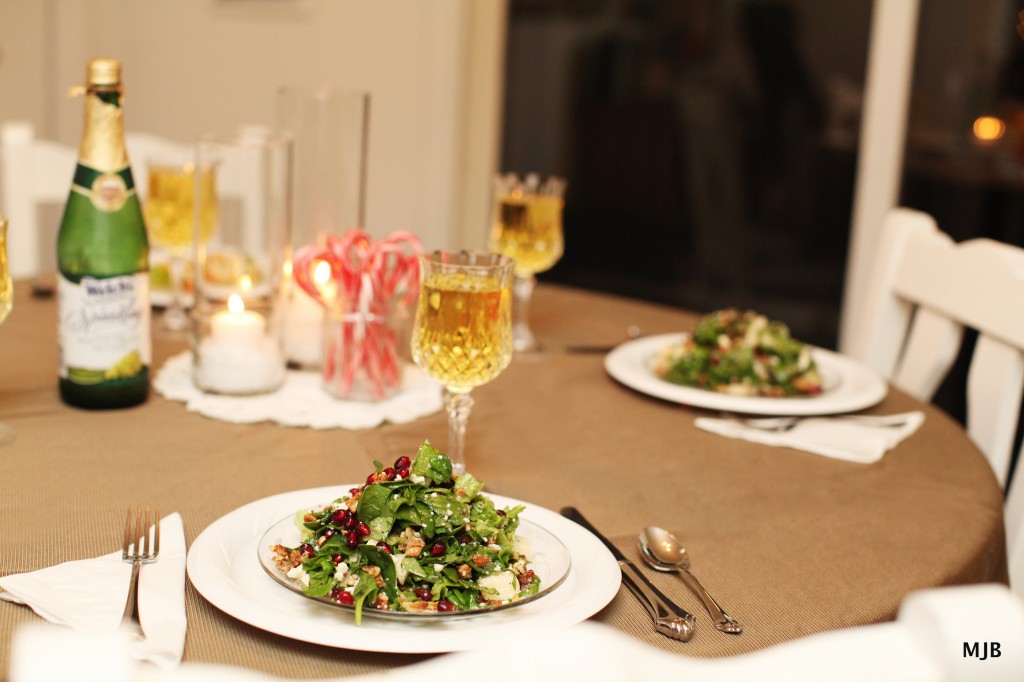 And because I already know you want the recipe, here it is.
Pear Pomagranate Salad
1/2 c. chopped pecans
1/4 c. sugar
1 head romaine lettuce
1 (14 oz) bag baby spinach
seeds from 1 pomegranate (about 1 cup)
2 ripe pears
Juice of 1 lime
4 oz crumbled feta cheese
1. Spray a sheet of aluminum foil with non stick cooking spray and set aside.
2. Combine pecans and sugar in a small nonstick skillet. Cook over medium low heat, stirring constantly, until the sugar melts and coats the nuts (about 15 minutes). Place on the prepared foil and set aside.
3. Toss together lettuce, spinach, pomagranate seeds, pears, lime juice, and cheese, adding the candied pecans right before serving. Drizzle Sweet Red Wine Vinaigrette over the salad and serve immediately.
Sweet Red Wine Vinaigrette
1/2 c. red wine vinegar
1/2 c. sugar
1-2 cloves garlic
1 tsp. salt
1 tsp. pepper
1/2 c. oil
Combine vinegar, sugar, garlic, salt, and pepper in a blender and process on high. Lower speed, and while blender is running, add oil in a steady stream. Dressing may be stored in refrigerator about 2-3 weeks. Shake well before serving.
….it's been a month of gorgeous snows!  Two weekends in a row we were gifted with amazing, gorgeous, add many superlatives snowfalls.  The last one was especially heavy and just beyond gorgeous to watch.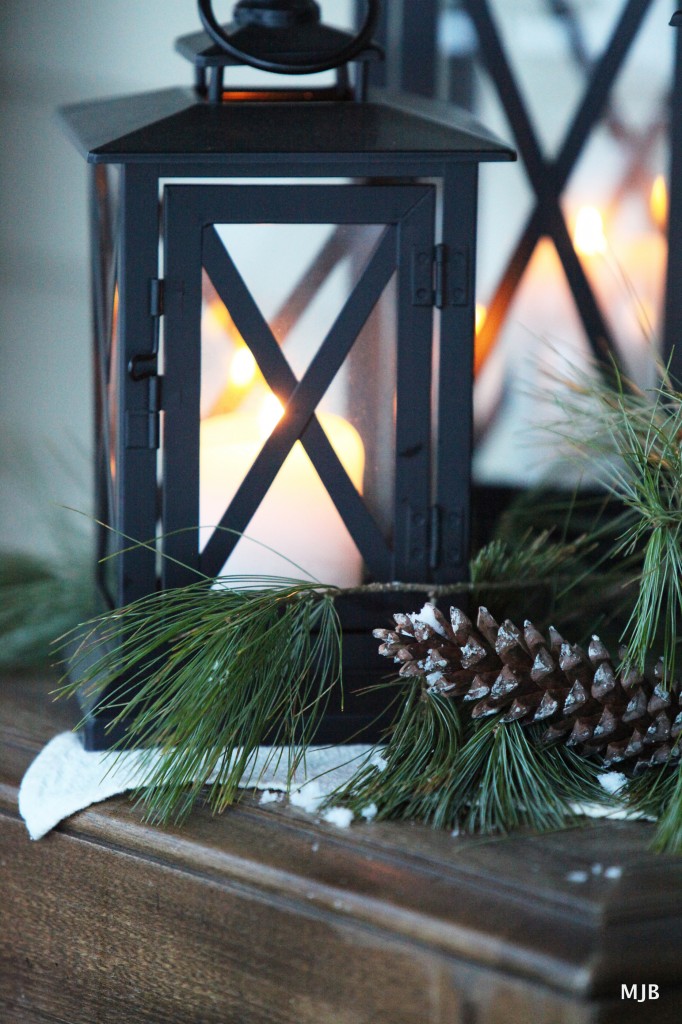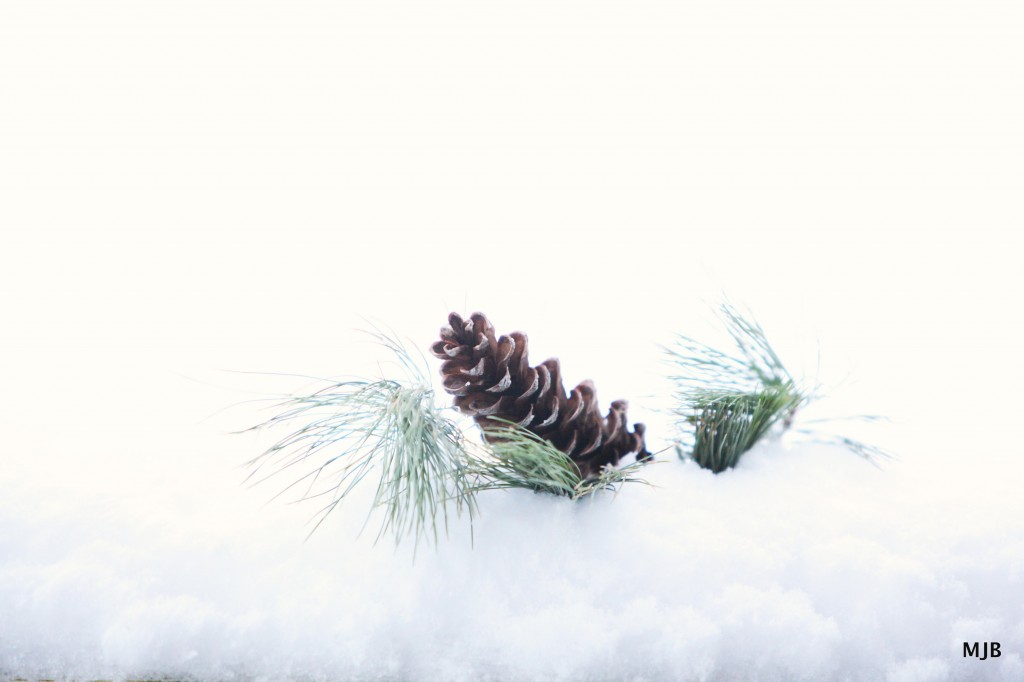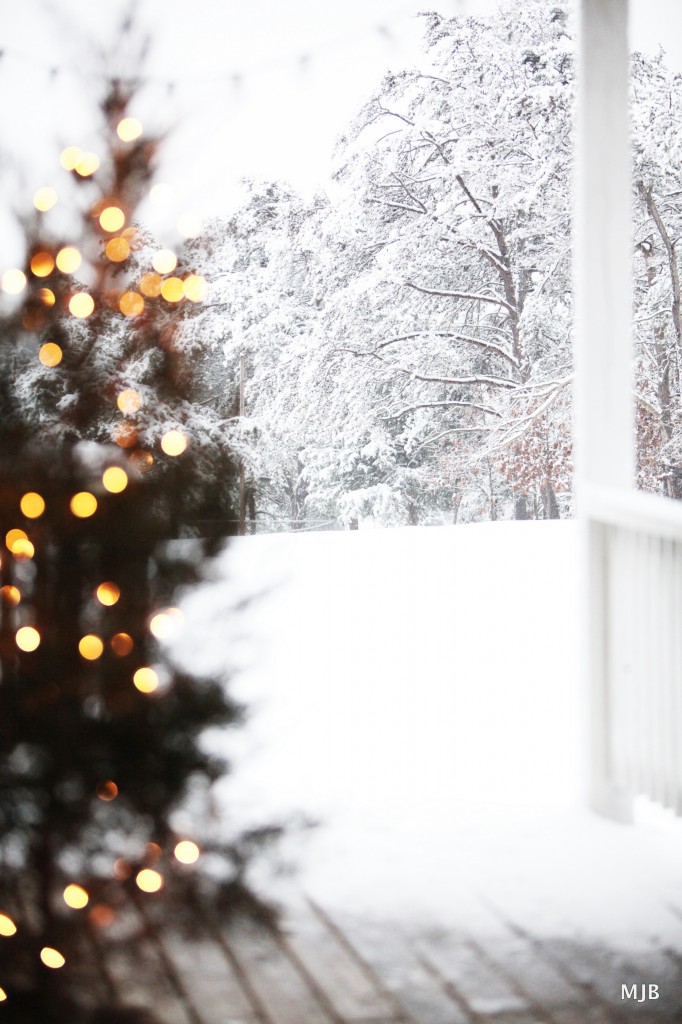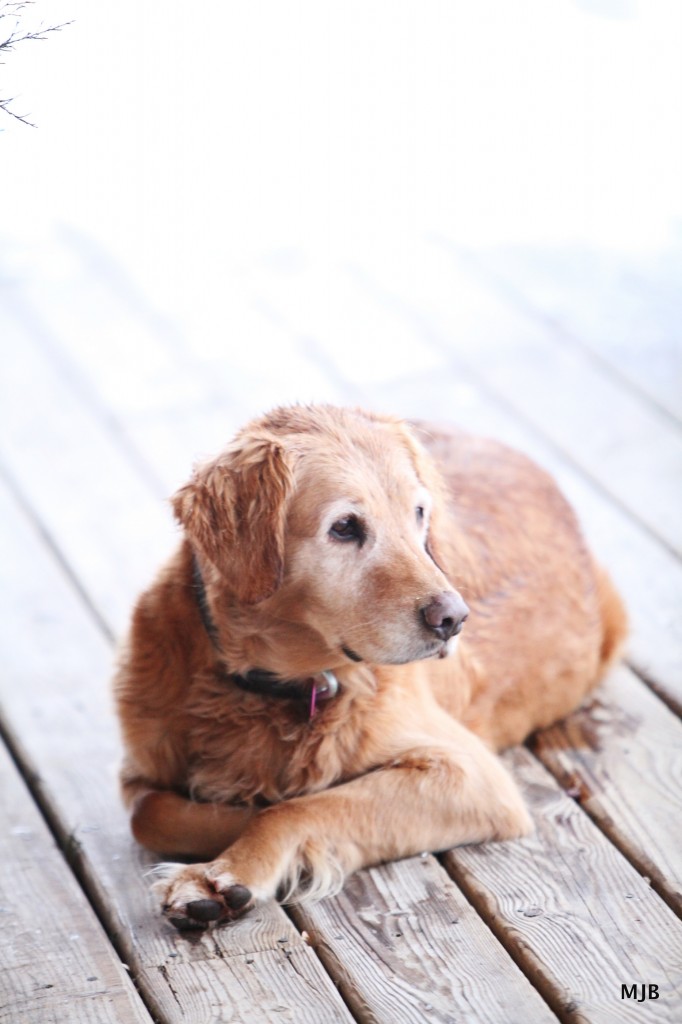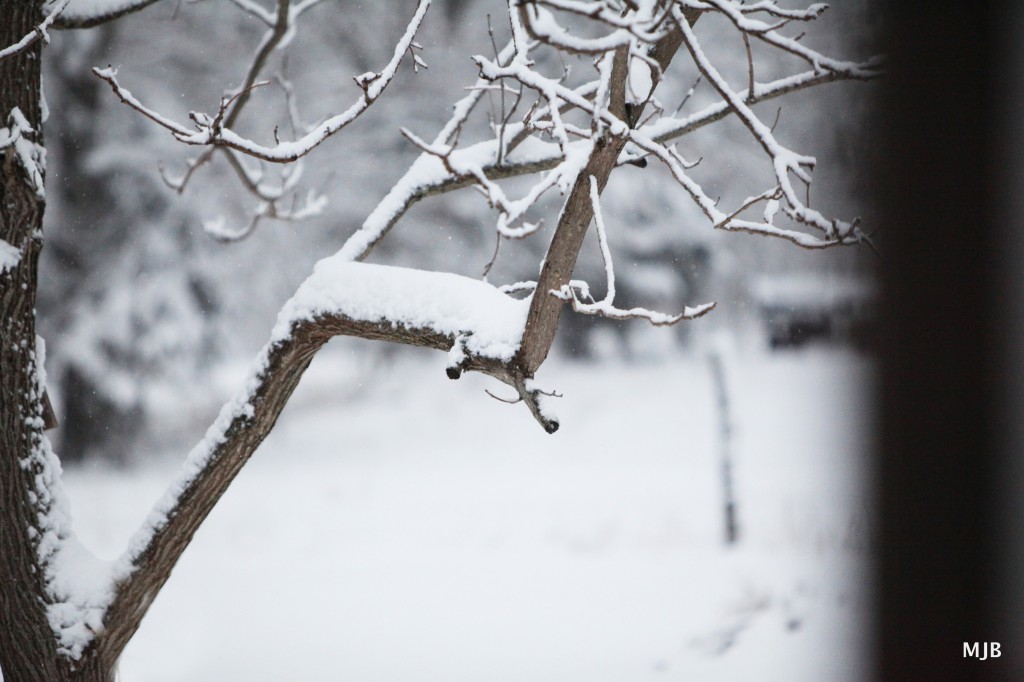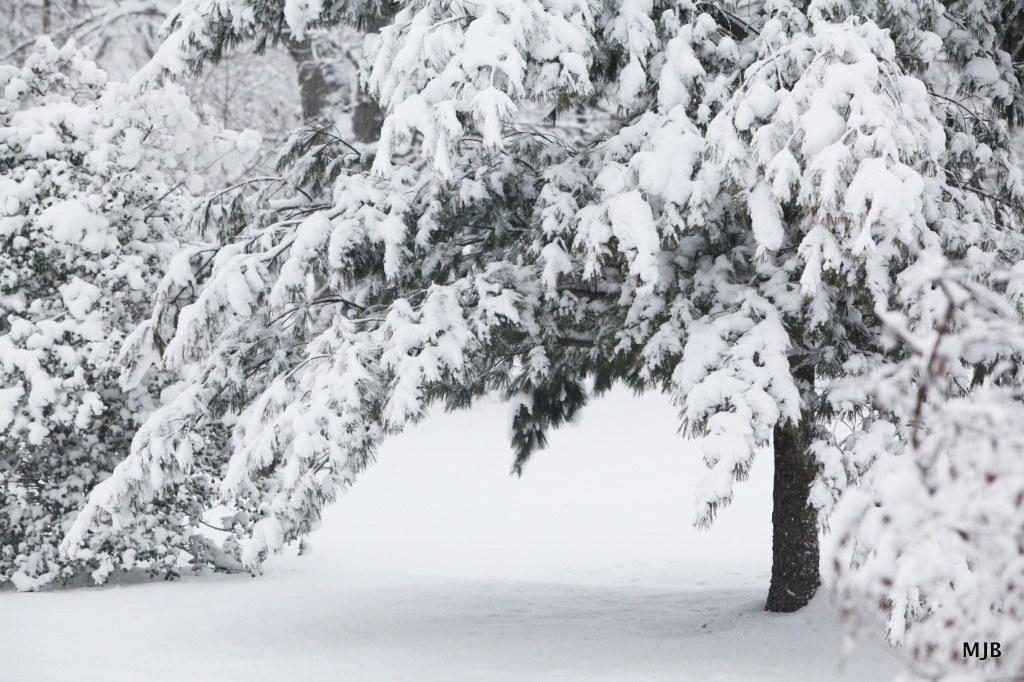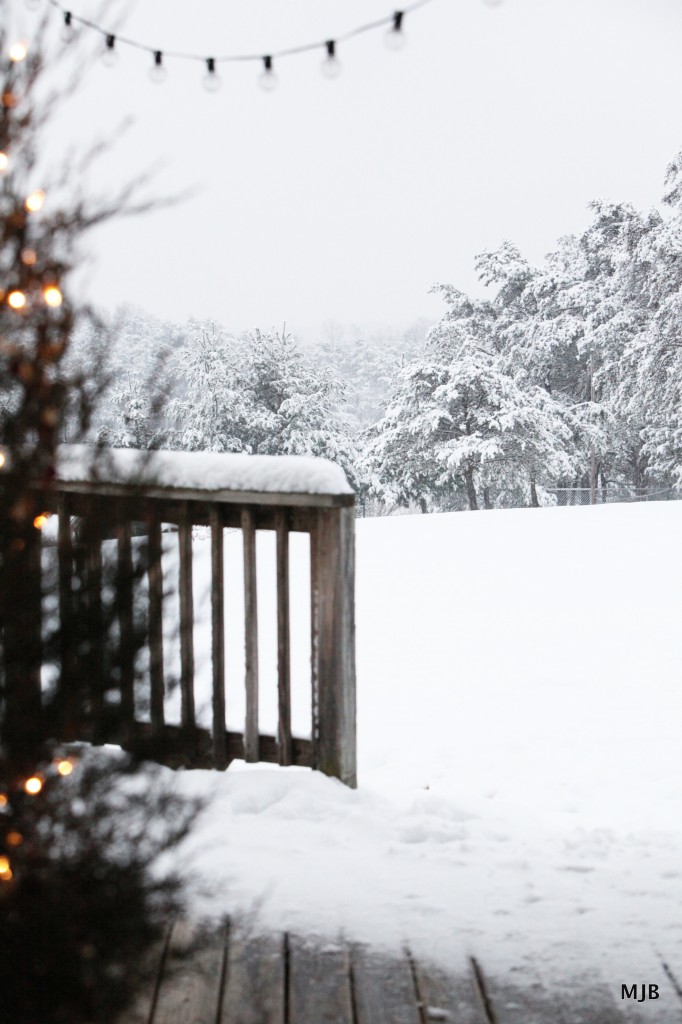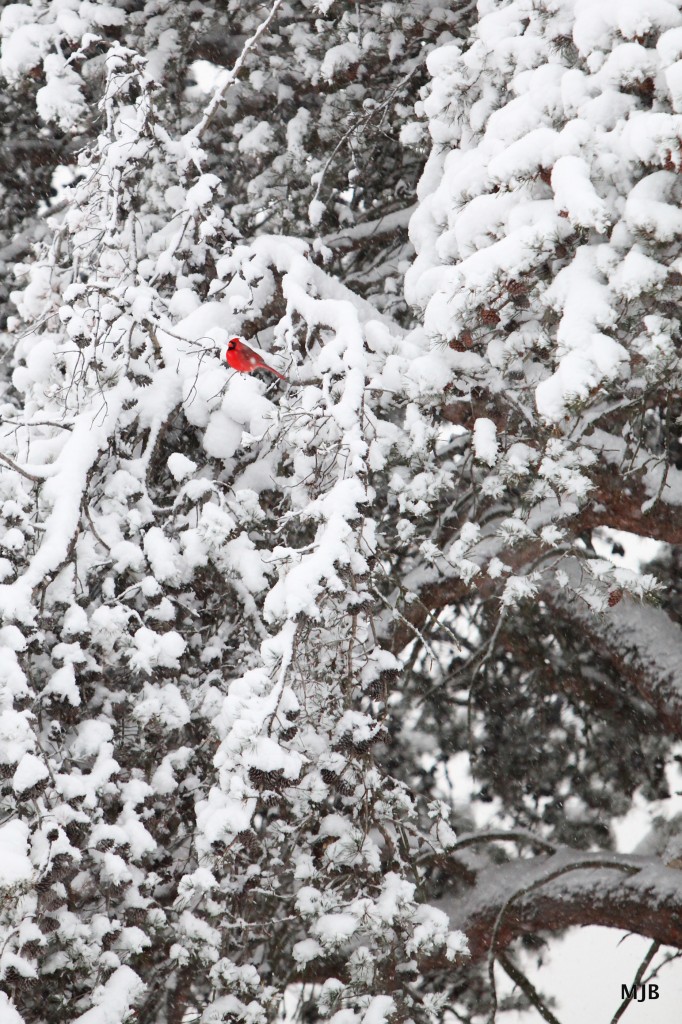 (These pictures are hard to believe now that it's been sixty degrees two days in a row.  How can the weather possibly change so fast?)
…. a fun afternoon of sewing with this girl.  Sheryl and I grew up together in South Carolina and some days I still can't believe we actually get to live in the same community for a little while again while she works as cook at camp.  She's such a fun, happy person to hang out with; but best of all, it is just a fabulous gift to be around an old friend.  Unfortunately, her time is flying by and we don't get to spend nearly enough time together.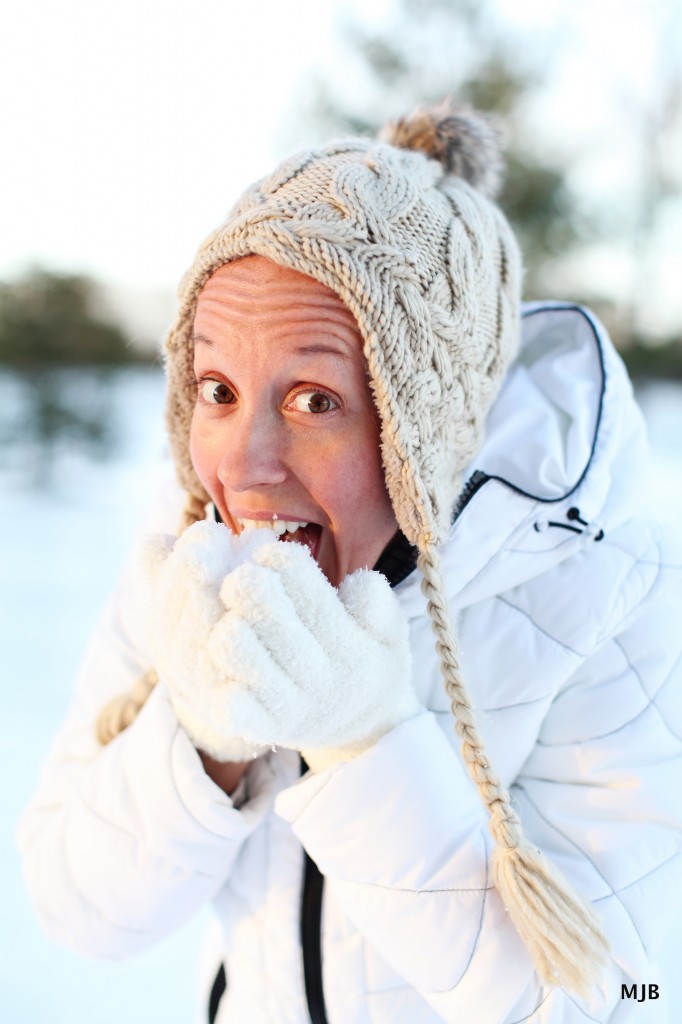 … a month of growing.  Or at least baby is growing.  I think I may be exploding.  Each of my pregnancies have involved Christmas time and each time, I think about Mary, with even more questions than before.  What was it like carrying the Son of God?  I wonder what her pregnancy was like and if she woke up during the middle of the night too miserable to go back to sleep like I do or if she was one of those women who blipped through pregnancy like it's no big deal?  I wonder if she went til her due date or if Jesus arrived early thanks to the bumpy donkey ride to Bethlehem?  But even more, I wonder what questions she asked herself throughout those nine months.  Did she ever wonder if she was capable of being the kind of mother He needed or did being divinely chosen and talking with the angel remove all her womanly tendencies to doubt herself?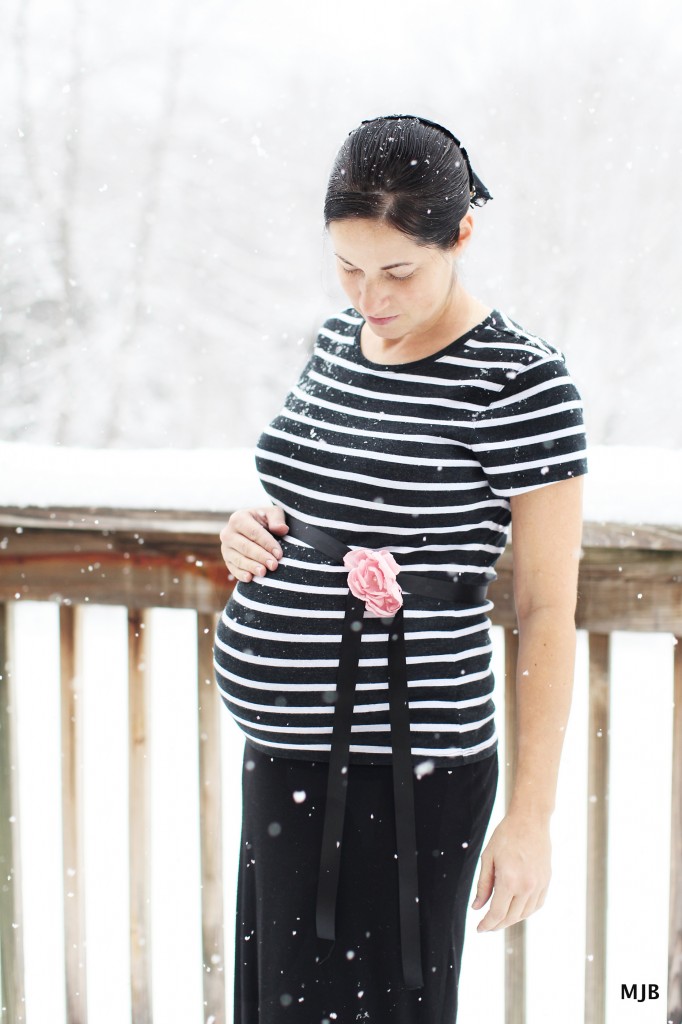 I love singing Christmas songs and the way different words become so meaningful from one year to the next.  This year, these are some of my favorites … "the weary world rejoices."  There is so much weariness in the world right now.  Not just physically (although it's nearly become my middle name these days) but spiritually.  It feels as though evil is everywhere wanting to win.  Evil possesses a man and causes him to shoot another man in the head.  Evil causes tension and hardship in relationships.  Evil wants us to get caught up in ideals and opinions that don't really matter so that we don't focus on Jesus and the things that really do.  And evil desperately wants to get the upper hand in our families, our churches, and the boys at camp.  This week as some things surfaced, I woke up some mornings feeling such a heaviness.  Not fear, because I know God's power is infinitely greater, but a heaviness with the realization of how intense and close the battlefield lies.  I love Christmas and celebrating the miracle of Jesus' birth; but more than ever this Christmas, I find myself longing for His next coming.  Unlike the silent four hundred years of darkness, we have his Spirit among us.  Meanwhile our world is weary and broken and leaking and longing for Him.  Thinking about how dark their world felt back then makes me realize how much more glorious it must have been to see the heavens light up with dozens of angels announcing the arrival of the Savior!  I can only imagine what it was like back then or what it will be like someday.  But for today, the weary world rejoices because He did come and He is coming again.